There are always screens where there is VR. What devices can be more convenient than your cell phone VR? Some high-end smart phones can provide the display quality that is not lost to the VR headset and are also portable. However, no matter how small your mobile phone, VR glasses box is ultimately very volume. So is there a VR device that is lighter than a VR glasses case? Of course!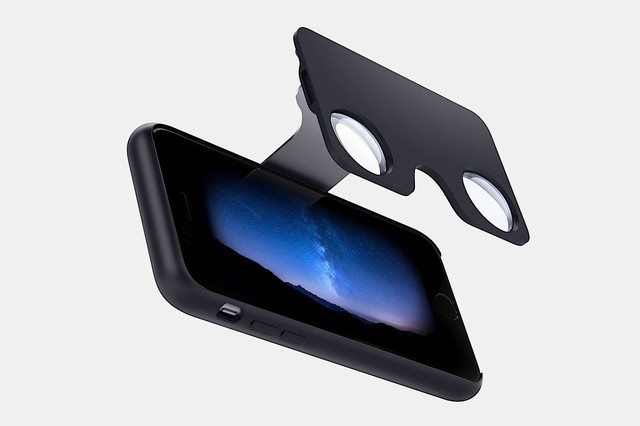 Figment is such a product. It is not so much a VR glasses box as a clip-type VR device. The Figment is mainly composed of a simple fixing device such as a spring clip, a lens, and a mobile Phone Case. Users can simply complete the installation, and then put the phone into it to experience VR. When not in use, the Figment can act as a protective shell for the mobile phone. When the user needs to experience VR, the user only needs to press the spring clip. The lens behind the phone case can be automatically shot in front of the screen. In leisure time, it is quite easy for users to show the Figment in front of their friends.
Of course, Figment's VR experience is very simple compared to the traditional VR head-display and VR all-in-one machines. It is not even a VR experience. In the middle of Figment, there is no baffle that can isolate the left and right eyes, and the surrounding is open, and there is no means to block the outside light. Therefore, when the user uses VR to experience Figment, it will always be disturbed by the outside light. It can be said that Figment can only be regarded as an early adopter, but not as a true VR headpiece. Even Google's carton glasses will be better than Figment.
But on the other hand, Figment is more meaningful for the popularity of VR. Currently, the proportion of users who separately purchase VR glasses boxes is not high among all mobile phone users. Even if users purchase VR glasses boxes, it is difficult to carry the experience with them. The appearance of the Figment refreshes the user's view of the VR glasses case. Although not every mobile phone user will be equipped with a VR glasses box, it has a mobile phone case. Figment combines a mobile phone case with a VR glasses case to give users more reason to purchase Figment. At the beginning of last month, Google launched a patent that could turn a mobile phone box into a VR glasses box. It can also protect the environment and increase the popularity of VR devices. It is one stone and two birds.
Although the development of VR is still faltering at this stage, the three VR heads can be counted as "available" in addition to the satisfactory sales of PS VR. Many users have been deterred from VR due to high prices, and the VR glasses boxes sold on the domestic e-commerce platform have become a one-time-use toy for users. Figment is not a bad thing.
At present, Figment offers two colors: black and white, and the favorite players should not miss it!